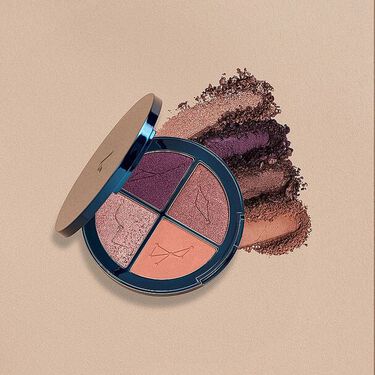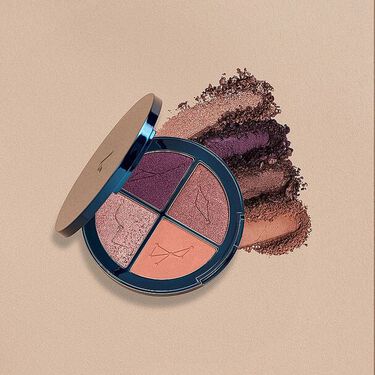 Out-of-this-world eyeshadows for the planet's most beautiful eyes. Amplify your natural beauty with four richly-pigmented eyeshadows in an unbelievably smooth formula that's so easy to blend and build, and infused with skincare ingredients for weightless hydration.
Arabian eyes are fabled for their dazzling beauty, so let's enhance the 'maha' that makes us unique. Play around with each eye palette's striking color combinations and exquisite textures, and bring to life your own bright and beautiful eyes.
Desert Proof: long-lasting in extreme weather
Non-drying, crease-free, no powder-fall
Contains four, high-pigment shades
Vegetable squalane helps hydrate skin
Safe for contact lens wearers
Ophthalmologically tested
Apply with a brush or fingers and blend.
All our products are made without harmful ingredients including mineral oil, microplastics, metals, parabens, sulphates, carcinogens, carbon black and many more.
Golden Eyes palette Shade 1: Synthetic Fluorphlogopite Mica Zea Mays (Corn) Starch [Zea Mays Starch] Zinc Stearate Caprylic/Capric Triglyceride Diisostearyl Malate Glyceryl Caprylate P-Anisic Acid Rosa Hybrid Flower Extract Titanium Dioxide Ci 77891 Iron Oxides Ci 77491 Iron Oxides Ci 77492 Iron Oxides Ci 77499 Shade 2: Synthetic Fluorphlogopite Mica Squalane Octyldodecanol Hydrogenated Styrene/Isoprene Copolymer Caprylyl Glycol Ethylhexylglycerin Zinc Stearate Pentaerythrityl Tetra-Di-T-Butyl Hydroxyhydrocinnamate Tocopherol Titanium Dioxide Ci 77891 Iron Oxides Ci 77491 Iron Oxides Ci 77499 Shade 3: Calcium Aluminum Borosilicate Synthetic Fluorphlogopite Diisostearyl Malate Mica Squalane Silica Caprylic/Capric Triglyceride Sorbitan Isostearate Polysorbate 60 Hydrogenated Styrene/Isoprene Copolymer Caprylyl Glycol Ethylhexylglycerin Hydrogenated Rapeseed Oil Tin Oxide Lauroyl Lysine Tocopheryl Acetate Pentaerythrityl Tetra-Di-T-Butyl Hydroxyhydrocinnamate Tocopherol Titanium Dioxide Ci 77891 Iron Oxides Ci 77491 Iron Oxides Ci 77499 Shade 4: Mica Zinc Stearate Silica Hydrogenated Vegetable Oil Squalane Triethoxycaprylylsilane C13-15 Alkane Lauroyl Lysine Caprylyl Glycol Ethylhexylglycerin Sorbitan Tristearate Pentaerythrityl Tetra-Di-T-Butyl Hydroxyhydrocinnamate Tocopherol Iron Oxides Ci 77491 Iron Oxides Ci 77499 Bismuth Oxychloride Ci 77163
Doe Eyes palette Shade 1: Mica Zinc Stearate Squalane Silica Hydrogenated Vegetable Oil C13-15 Alkane Lauroyl Lysine Caprylyl Glycol Ethylhexylglycerin Triethoxycaprylylsilane Kaolin Sorbitan Tristearate Pentaerythrityl Tetra-Di-T-Butyl Hydroxyhydrocinnamate Tocopherol Ultramarines Ci 77007 Titaniun Dioxide Ci 77891 Manganese Violet Ci 77742 Iron Oxides Ci 77491 Iron Oxides Ci 77492 Iron Oxides Ci 77499 Bismuth Oxychloride Ci 77163 Shade 2: Calcium Sodium Borosilicate Mica Synthetic Fluorphlogopite Squalane Octyldodecanol Hydrogenated Styrene/Isoprene Copolymer Caprylyl Glycol Ethylhexylglycerin Silica Tin Oxide Zinc Stearate Pentaerythrityl Tetra-Di-T-Butyl Hydroxyhydrocinnamate Tocopherol Titanium Dioxide Ci 77891 Iron Oxides Ci 77491 Iron Oxides Ci 77499 Shade 3: Calcium Aluminum Borosilicate Synthetic Fluorphlogopite Mica Diisostearyl Malate Squalane Silica Caprylic/Capric Triglyceride Sorbitan Isostearate Polysorbate 60 Hydrogenated Styrene/Isoprene Copolymer Caprylyl Glycol Ethylhexylglycerin Lauroyl Lysine Hydrogenated Rapedeed Oil Tin Oxide Tocopheryl Acetate Pentaerythrityl Tetra-Di-T-Butyl Hydroxyhydrocinnamate Tocopherol Titanium Dioxide Ci 77891 Iron Oxides Ci 77491 Iron Oxides Ci 77499 Shade 4: Calcium Sodium Borosilicate Synthetic Fluorphlogopite Squalane Mica Octyldodecanol Hydrogenated Styrene/Isoprene Copolymer Silica Caprylyl Glycol Ethylhexylglycerin Tin Oxide Zinc Stearate Pentaerythrityl Tetra-Di-T-Butyl Hydroxyhydrocinnamate Tocopherol Titanium Dioxide Ci 77891 Iron Oxides Ci 77491 Iron Oxides Ci 77499
Emerald Eyes palette Shade 1: Synthetic Fluorphlogopite Mica Squalane Octyldodecanol Hydrogenated Styrene/Isoprene Copolymer Caprylyl Glycol Ethylhexylglycerin Zinc Stearate Pentaerythrityl Tetra-Di-T-Butyl Hydroxyhydrocinnamate Tocopherol Titanium Dioxide Ci 77891 Iron Oxides Ci 77491 Shade 2: Calcium Aluminum Borosilicate Synthetic Fluorphlogopite Diisostearyl Malate Mica Squalane Caprylic/Capric Triglyceride Silica Sorbitan Isostearate Polysorbate 60 Hydrogenated Styrene/Isoprene Copolymer Caprylyl Glycol Ethylhexylglycerin Hydrogenated Rapeseed Oil Lauroyl Lysine Tocopheryl Acetate Tin Oxide Pentaerythrityl Tetra-Di-T-Butyl Hydroxyhydrocinnamate Tocopherol Titanium Dioxide Ci 77891 Iron Oxides Ci 77499 Chromium Oxide Greens Ci 77288 Shade 3: Mica Squalane Synthetic Fluorphlogopite Hydrogenated Vegetable Oil Silica Hydrogenated Styrene/Isoprene Copolymer Caprylyl Glycol Ethylhexylglycerin Lauroyl Lysine Sorbitan Tristearate Pentaerythrityl Tetra-Di-T-Butyl Hydroxyhydrocinnamate Tin Oxide Zinc Stearate Tocopherol Titanium Dioxide Ci 77891 Iron Oxides Ci 77491 Shade 4: Mica Zinc Stearate Squalane Silica Kaolin Hydrogenated Vegetable Oil Triethoxycaprylylsilane C13-15 Alkane Lauroyl Lysine Caprylyl Glycol Ethylhexylglycerin Sorbitan Tristearate Pentaerythrityl Tetra-Di-T-Butyl Hydroxyhydrocinnamate Tocopherol Ultramarines Ci 77007 Iron Oxides Ci 77492 Iron Oxides Ci 77499 Bismuth Oxychloride Ci 77163 Blue 1 Lake Ci 42090
Smoky Eyes palette Shade 1: Calcium Sodium Borosilicate, Mica, Synthetic Fluorphlogopite, Squalane, Titanium Dioxide [Ci 77891], Octyldodecanol, Copper Powder Ci 77400, Bronze Powder Ci 77400, Hydrogenated Styrene/Isoprene Copolymer, Silica, Caprylyl Glycol, Ethylhexylglycerin, Iron Oxides Ci 77491, Iron Oxides Ci 77499, Tin Oxide, Zinc Stearate, Pentaerythrityl Tetra-Di-T-Butyl Hydroxyhydrocinnamate, Tocopherol, Calcium Aluminum Borosilicate, Ultramarines Ci 77007, Aluminum Calcium Sodium Silicate, Calcium Titanium Borosilicate, Alumina, Blue 1 Lake Ci 42090, Ferric Ammonium Ferrocyanide Ci 77510, Iron Oxides Ci 77492, Manganese Violet Ci 77742, Yellow 5 Lake Ci 19140, Kaolin Shade 2: Mica, Squalane, Silica, Hydrogenated Vegetable Oil, Iron Oxides Ci 77491, Triethoxycaprylylsilane, C13-15 Alkane, Lauroyl Lysine, Caprylyl Glycol, Ethylhexylglycerin, Sorbitan Tristearate, Pentaerythrityl Tetra-Di-T-Butyl Hydroxyhydrocinnamate, Tocopherol May Contain: Titanium Dioxide [Ci 77891], Iron Oxides Ci 77499, Iron Oxides Ci 77492, Zinc Stearate, Bismuth Oxychloride Ci 77163 Shade 3: Mica, Squalene, Titanium Dioxide [Ci 77891], Hydrogenated Vegetable Oil, Silica, Synthetic Fluorphlogopite, Hydrogenated Styrene/Isoprene Copolymer, Iron Oxides Ci 77491, Caprylyl Glycol, Ethylhexylglycerin, Lauroyl Lysine, Tin Oxide, Sorbitan Tristearate, Pentaerythrityl Tetra-Di-T-Butyl Hydroxyhydrocinnamate, Zinc Stearate,Tocopherol Shade 4: Mica, Squalane, Silica, Hydrogenated Vegetable Oil, Iron Oxides Ci 77491, Triethoxycaprylylsilane, C13-15 Alkane, Lauroyl Lysine, Caprylyl Glycol, Ethylhexylglycerin, Sorbitan Tristearate, Pentaerythrityl Tetra-Di-T-Butyl Hydroxyhydrocinnamate, Tocopherol May Contain: Titanium Dioxide [Ci 77891], Iron Oxides Ci 77499, Iron Oxides Ci 77492, Zinc Stearate, Bismuth Oxychloride Ci 77163
What our sisters say
Amazing product so pigment
Amazing product so pigment
Amazing soo pigmented
Amazing soo pigmented